My name is Dennis Keller. You might also know me under the nick Ozon or ozontm. I'm currently 27 years old, and I'm living and studying in Aachen, NRW, Germany. My dream is to work in the spaceflight industry and to support space exploration. I am studying aerospace engineering at the FH Aachen and I'm currently employed at the Fraunhofer Institute for Laser Technology, where I'm specializing in metallic 3D printing processes.
Personality
If I'd be asked to describe myself: relaxed, honest and friendly guy. There are almost no people I do not get along with. I'll always try to be helpful and supportive where I can. I'm intrinsically motivated to learn more about tech and engineering, which is another huge reason why I decided to become an engineer: I love solving problems. There's nothing quite like jumping hurdles where others gave up on. This mindset helped me to extend my set of skills a lot.
My deep belief is that many of us might experience a change of thought if they would be able to see the earth from above or even millions of miles away: A big stone covered with a thin layer of atmosphere where we all live in. We as humans have not just the responsibility, but also the ability to keep our society and environment healthy for future generations. I'm optimistic that we will be successful in the long run, but that doesn't keep me from advocating for these subjects.
My practical background
I spent my entire childhood around my hometown Bad Oeynhausen, which lies near Bielefeld, Germany. With 18 years old I moved out of my parents home to pursue my bachelors degree in Astronautical Engineering at the FH Aachen (University of Applied Sciences). I received my Bachelor's degree in October 2020 and I'm currently pursuing the master Aerospace Engineering. Among my time at uni, I was consistently supported by good friends and especially my family, which I'm very grateful for.
I fulfilled a dream of mine in early 2019, when my team and I sent an Experiment to space using a REXUS sounding rocket. View the launch here.
Next to my job
Music is a passion I enjoy a lot in my daily life. I wouldn't call my taste good or popular, but I keep finding out about great bands and amazing tracks, so for the time being, I'm happy. Electronic music is a genre I listen very often to (dnb, idm, general electronica), but also a lot of progressive & psychedelic rock tracks happen to be in my playlist.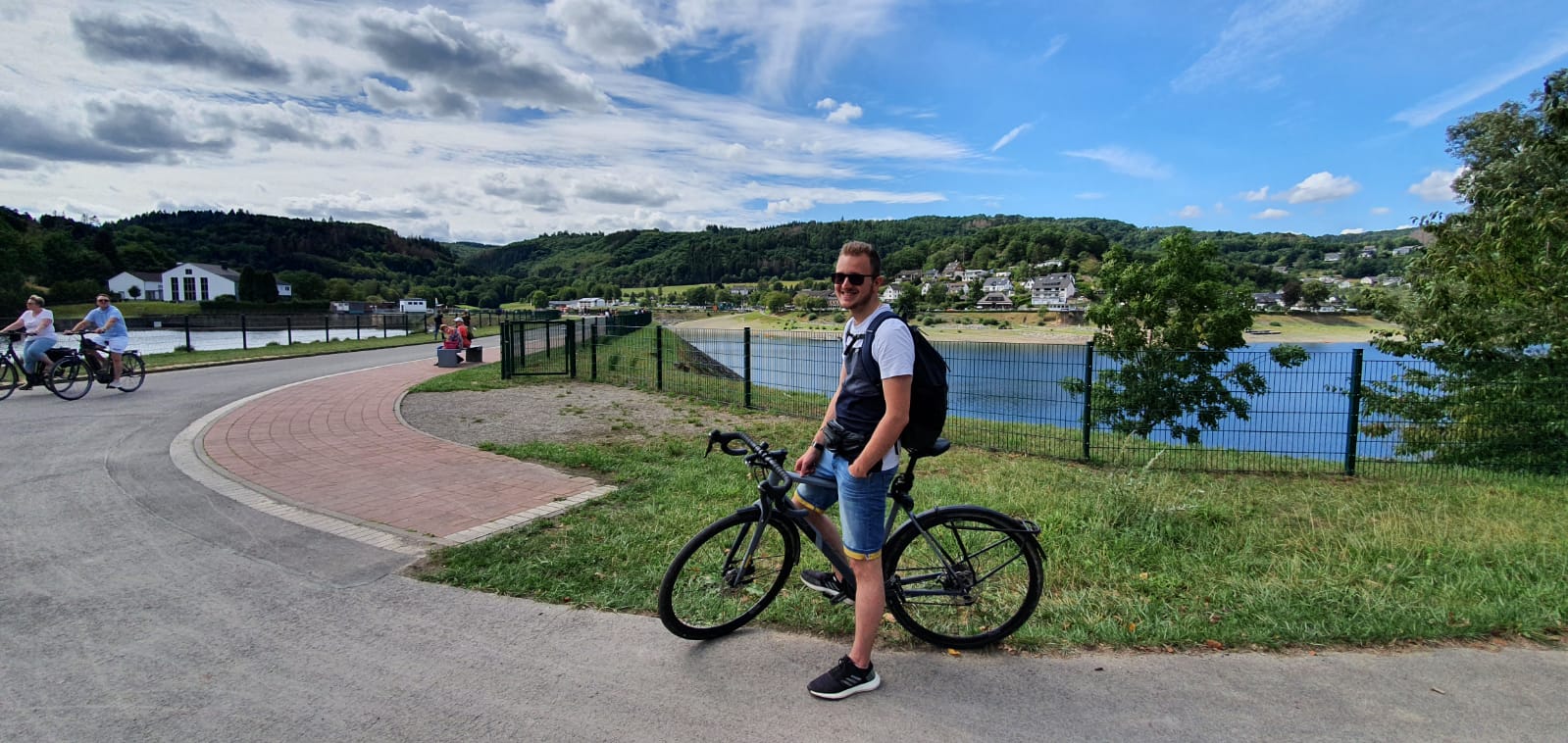 Outside of the digital world, I do often ride my bike. I love doing semi-long day trips and spending the whole day outside. For the busy weekdays, I'm satisfied with driving up the highest point of the Netherlands, which borders Aachen in Germany. Karting is also one of my hobbies I like to do from time to time. I even organized >10 man strong karting events twice! Sports is since recently also a big factor which dominates my life during freetime. I'm cycling between swimming, lifting and riding the bike during the week to keep myself in good shape.
I love travelling inside and around Germany and I would also love to visit many more places far away in the future. My remotest destination I travelled to so far was in Kiruna, Sweden, where I worked on sending our Experiment into space inside a sounding REXUS rocket. Living in Europe is a privilege especially in the aspect that you can do a road trip and during a day traverse multiple countries and cultures. Learning more about Germany and its neighbors is one of my favorite activities on the road.
Creating videos or any other kind of media always meant a lot of fun for me. My first works were family trip videos out of images cut together in Windows Movie Maker. In the past I've always wondered how they did these fancy TV graphics. With youtube tutorials it happened that it's now very easy to find out about that. Nowadays, I employ a youtube channel with over 200 videos and 1000 subscribers. I admit, it's not very impressive, but I'm still happy about my work! Most of the videos contain Trackmania content, which is not only a fun racing game, but also includes a very powerful scene editor. I use music and cool camera rides to highlight the content I present.
Trackmania
The game Trackmania is a big hobby next to the usual things I do. I'm playing the game, but I spend more time creating content with its engine. Next to videos, I've been managing a lot of projects, competitions and even won some. My greatest accomplishment so far was to finalize my now most popular video "We Are Trackmania", in which I presented some amazingly quick drives by others on maps made by the Trackmania community. I'm currently working on 3 big videos, which are most likely to be released between end of 2018 and the end of 2019. I do stream on twitch from time to time, too.
My biggest project so far lies in upgrading ManiaExchange as the Lead Developer to a future-proof and feature-rich site. For that, I learned C# and Javascript by asking questions to fellow developer friends and using Google. In April of 2022 I have become an entrepreneur as I registered ManiaExchange as a business.
I've been playing this game since 2007 and got involved in its amazing community since 2009. Trackmania Nations ESWC was my first Trackmania game.
Outro
I hope you were able to learn some things about me and are now able to draw the bigger picture that is the guy you were reading about just now. If you want to keep track of my activities, I highly recommend you to follow me on the social media of your choice, sorted by activity below. In case you want to contact me directly, use Discord: Ozon#0359.
Here's a list of my Trackmania Achievements:
1st Place Trackmania Movie Makers Contest (TMMC) 2014 (video)
1st Place (without Bonus) / 2nd Place Shortz Video Contest #3 (video - playlist of contest)
2nd Place Infernal Movie Contest 5 (IMC5) (video)
"Life Achievement" Award at the ManiaExchange User Choice Awards 2018
2 time ManiaExchange Knockout Lagoon Winner
8th Place TM-Masters True Talent Cup Valley #1
4th Place Trackmania Professional Endurance Cup (PEC) Valley #1 Projects and cups I've led / been involved in:
MX One Block Story #1-4
MX Adventcup 2015
MX MTC May 2017
MediaPlanet (founder)
ManiaExchange (Currently Lead Developer)
KO POOP 1-4 (founder & organizer)
TM-Tube (reincarnation & website development)
TMMC Season #2 (Judge & the one doing the analyse videos)
MX Track Showcase (founder)
MX Sharing is Caring (founder)
Lead Developer & Creator of the sites ItemExchange, Trackmania News, TrackmaniaExchange