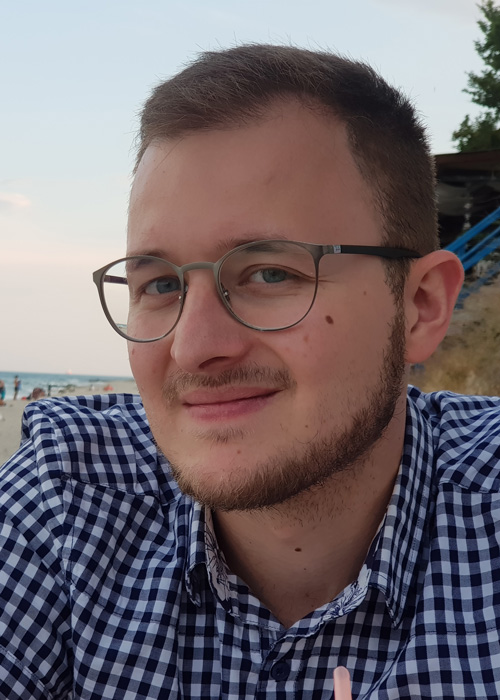 Abstract about myself
I'm Dennis Keller, born in Bad Oeynhausen, Germany and I'm currently 27 years old. I was born into a family of immigrant workers from the USSR and Poland without academic history. Like some of my cousins and relatives that resemble the second generation of immigrants I now pursue an academic degree. Many of the milestones I've passed on the way to this goal would not have been possible without my parents, close relatives and friends.
My lifelong dream has been to become an engineer, preferrably in the space exploration field some day. It all started with a book I read at about 12 years old: Our Universe by Roy A. Gallant - which is still an amazing read - features mindblowing illiustrations, data and perspectives into our solar system and the void around it. The insignificance of our being and the big unknown outside of our world has captivated me ever since.
Next to my fascination for all things space, I'm a tech geek. I love learning about the mechanical workings of basically everything. A great example of how even the simplest looking things in our everyday life are the works of geniuses is beautifully captured in this video. During my childhood I learned how to do basically anything on a computer - having access to internet search and being motivated to teach things myself I acquired an immense skillset that I am benefitting from to this day.
I'm a team person and I'm giving my best at sharing my knowledge with the people around me. Solving a problem - no matter if done so by myself or one I solved within a team - always fills me with joy. Overcoming obstacles others gave up on gives me confidence that I can do better.
Education
2014: acquired Fachoberschulreife / technical college entrance qualification
2014-2020: B.Eng. Astronautical Engineering at FH Aachen / UAS Aachen
2020-2023: M.Sc. Aerospace Engineering at FH Aachen / UAS Aachen (In Progress)
Practical Experience
ManiaExchange (2015-?)
I am Owner and Lead Developer of ManiaExchange, a community content database for the arcade racing game Trackmania. I joined the team back in 2015 to support small-scale projects. During my time there I learned to code in C#, JS, SQL and also developed various websites to extend the ecosystem that makes ManiaExchange the network it is today. Pushing the site forward is an objective that is still being pursued until today, as a hobby side-project of mine. As of April 2022, I have registered ManiaExchange as a small business.
VIPER (2016-2019)
I was part of the student project VIPER REXUS, in which the goal was to build a scientific experiment inside a section of a sounding rocket, which will be launched from ESRANGE Space Center in Sweden. The sounding rocket enables the experiment to achieve over two minutes of microgravity. Aboard VIPER inside REXUS 23, a water-ice sublimation experiment was carried out to simulate melting probe conditions, which would possibly occur in an environment similar to those at the saturnian icemoon Enceladus. The experiment was successfully launched and carried out in February 2019. My activities there revolved around being part of the mechanical team, where I performed tasks of a mechanical engineer and PR/Outreach, where I created a corporate design and various other print/digital media to promote our team.
Fraunhofer ILT (2018-?)
I have been part of developing a SLM/LPBF machine to additively manufacture parts with sizes over 1000x800x290 mm³ using metallic powders and high-energy lasers. During my time at the ILT I've learned and extended skillsets essential to those of a mechanical engineer. Becoming an expert in the field of SLM/LPBF & FDM process management, I am now able to perform additive manufacturing using relevant machinery. Additionally, as being a part of a scientific work environment and during my time writing my bachelor's thesis at the institute, I learned about various scientific practices that enabled me to carry out and analyse experiments with precise results.
Languages
Spoken fluently
I can interact and work with people and assets that use the following languages.
German ("Hochdeutsch", native)
English
Basic knowledge
I have a low skillset in the following languages, that allow me to understand / talk in basic terms.
Russian
Polish
French
Spanish
Developer portfolio
A collection of all tools I've used extensively to develop software and websites.
Frameworks & Distros
ASP.NET
.NET Core 3-5 and .NET 6
Vue.js
Databases
SQL Server 2008+
MySQL
PostgreSQL
Coded "fluently"
I have a sufficient understanding of these coding languages that allow me to write basic and understand advanced code without external support.
Basic knowledge
I can understand and create basic code written in this language, but I require a computer with search engine access.
Python
MatLAB
VB.NET
Command line (Bash, Powershell, Cmd)
Software Knowledge
IDEs
Arduino IDE
Visual Studio 2017+
VSCode
CAD
CATIA V5: Part, Assembly, Generative Shape Design
Siemens NX
Autodesk Inventor
Additive Manufacturing
Materialise Magics
Ultimaker Cura
Media editing
Vegas Pro
Adobe Photoshop
Adobe After Effects
Adobe Illustrator
Davinci Resolve